Located in historic downtown Forsyth, Fox City Brewing Company serves craft beer, delicious food, and an authentic community experience.
Take it Slow
Forsyth, Georgia has charmed people since its earliest days. The town welcomes you with hospitality and sincerity, inviting you to stop and stay awhile.
Time slows down here, and that's OK with us.
It's why we founded Fox City Brewing in Forsyth's historic downtown. We believe there's no better place to hit the brakes and embrace the moment with a great beer.
Just like Forsyth, authenticity abounds at Fox City Brewing. There's no need to dress up or dress down – just be you. That's how we live, and that's how we brew.
Founded On Community
Fox City Brewing Company grew from a passion for community.
In 2020, Bob Zellner and George Emami teamed up with some passionate Forsyth natives, Justin Cox and John Ambrose, Jr., to create a place for neighbors to gather.
Bob brewed his first batch of beer in 1972 and began attracting a dedicated following of craft beer enthusiasts. As the popularity of his beer grew, so did Bob's dream of serving his beer to as many people as possible.
George wanted to create a gathering place for people in Forsyth, and he recognized the uniting power of a local brewery. Both Bob and George longed to create a place for people to connect.
With their talents combined, Fox City Brewing was born. It's a casual, not-hurried experience that allows our purpose to shine – community, entertainment, and mighty fine beer. Bob and George will tell you that they wouldn't have started this dream without each other, and that's what we like to see at Fox City – connection.
What's up with the Name?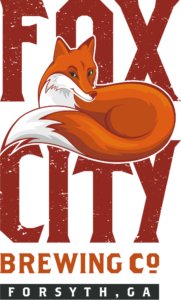 The old-timers here would love to tell you this story. Forsyth has been known as "Fox City" for well over a century. Some say it's the clever nature of our earliest settlers. Others say it's simply the city's cozy charm. But it also may have something to do with Tift College, which began as a women's college just outside of downtown Forsyth. You do the math on that one.